Panorama gave ex-Tesco boss Terry Leahy an easy ride
The former retail kingpin was allowed to stick the knife into his ill-fated, handpicked successor Philip Clarke.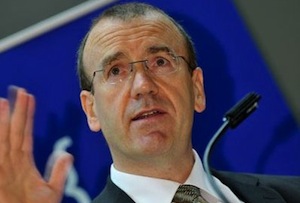 Tesco suffered from a 'failure of leadership' under Philip Clarke that 'eroded' customers' trust and its reputation for cheap prices. That's according to Clarke's fêted predecessor Sir Terry Leahy anyway, who stuck the knife in on a BBC Panorama investigation into Tesco's recent travails last night.
'Tesco is the biggest, people expect it to have the best prices and know they can trust Tesco to deliver that,' Leahy told the programme. 'I think that some of that trust has been eroded, which has meant that people have shopped around.'
'People tried very hard to do the right thing, it clearly has not worked. In the end that's a failure of leadership, not a failure of the business, not a failure of the people who work hard every day in the business,' he continued.