Parcel power: who's delivering the goods?
Consumer demand is making the busy world of logistics ever more sophisticated. From same-day services to drones, we track where the delivery industry is headed.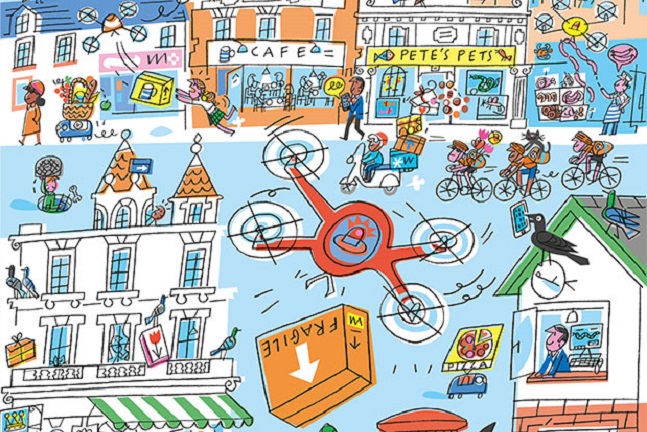 Britain is a world leader in ecommerce but selling online leaves retailers with a challenge: how to actually put goods in the hands of the consumer. Traditionally shoppers have been left with little idea when their new dress or DVD would show up, often getting back from work to find the dreaded calling card promising to try again tomorrow - when they will still be out. And everybody knows someone whose parcel has been left in a supposedly 'safe place' like a wheelie bin, or in the case of one unfortunate Yodel customer, on their roof. But things are changing. As customers demand better service and new entrants are vying for a slice of the pie, the old guard are having to up their game.
Courier firm DPD's parcel volumes fall off dramatically after the busy Christmas period. But at 7am on a pitch black, freezing cold January morning its delivery depot in Feltham, Middlesex, is awash with people. It's a surprisingly simple operation. Parcels arrive throughout the night in articulated lorries from one of the company's giant sorting depots in the Midlands. They are loaded onto an elevated conveyor belt that stretches the length of the building, automatically scanned for their postcodes and deposited onto one of a dozen chutes to be collected by whichever van driver will take them to their final destination. Oversized and awkwardly shaped packages ('uglies' in the industry lingo) and fragile products like mobile phones are sorted separately.
The company has 56 of these depots in the UK but the plan is to almost double that within the next 10 years. It's not the only parcel carrier that's expanding either. Hermes is currently building a £31m super hub in Warwickshire, budget carrier Yodel has opened seven new service centres in the past year, and FedEx is reportedly doubling the size of its Staffordshire warehouse. With its letter business in terminal decline, former state-owned monolith Royal Mail is also betting on parcels as a vital source of growth.