Parisian models bare all in protest
Paris life models have staged a naked demonstration. Just don't ask where they keep their tips.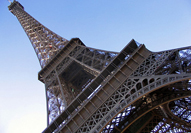 More than 100 life models from Paris' Beaux Arts workshops went on strike in the city yesterday, posing nude in freezing temperatures to demand a pay increase, fixed contracts and respect for their work.
The models, who are paid around 10 euros an hour by the Paris town hall, said the government should officially recognise the profession, which would entitle them to benefits such as sick pay. And as their job involves spending whole days sitting around naked even through the winter, they're probably more in need of that than the rest of us.
French unions backed the action, which saw a large flesh-coloured crowd waving placards outside Paris city hall's culture department. Understandably perhaps given the season, they opted against a sit-down protest.