PartyGaming boss Dikshit faces $300m US fine
PartyGaming co-founder Anurag Dikshit could pay a heavy price for the US internet gambling crackdown...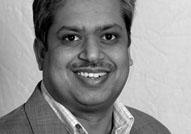 Anurag Dikshit, the technical whizz behind online gambling firm PartyGaming, has apparently agreed to shell out $300m of his own money to try and clear his name with the US authorities. With the Department of Justice showing no sign of giving up its crusade against internet gambling (which is in no way motivated by a desire to appease the big Vegas casino operators), the FT reports that Dikshit has agreed to pay a fine and plead guilty to charges of illegal gambling, in a bid to draw a line under the ongoing criminal investigation.
Dikshit, who still owns 27% of the business, will supposedly plead guilty to an offence under the Wire Act, the 1961 law that outlawed telephone gambling and is now being applied to online operators (dubiously, some argue). This could technically land him in jail for up to two years - but it sounds like he's been feeling the heat from the DoJ's ongoing crackdown (particularly the arrest of BetonSports CEO David Carruthers in 2006), and is so desperate to get them off his back that he's decided to co-operate. Understandable - but the worry for PartyGaming (and other operators) is that this will set a dangerous precedent.
PartyGaming refused to confirm the story today, but it said in a statement that its own discussions with the DoJ have made 'good progress' and it was 'currently negotiating the final terms of a possible settlement'. It admitted this was likely to result in some kind of fine – but it said the amount would be 'significantly lower than that reported to be paid by Mr Dikshit' and was unlikely to involve any of its top brass pleading guilty to a criminal charge. That would be good news for Dikshit's co-founder Ruth Parasol and her husband Russ DeLeon, who own 28% between them.