Paul Walsh quits Diageo after 13 years at the still
Walsh, the veteran of MT's Most Admired Companies, who has led the Smirnoff, Guinness, and Johnnie Walker maker since 2000, is to be replaced by COO Ivan Menezes.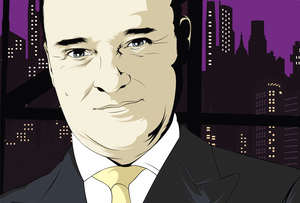 It's time at the bar for Paul Walsh, the Diageo CEO who has taken the drinks giant from a market cap of £30bn in 2009 to almost £50bn today. Not bad going during the longest global downturn in living memory.

From July 1, COO Ivan Menezes will take over as chief executive, although Walsh will remain on hand for up to a year to ease the transition. The 57-year-old Walsh has yet to reveal what he plans to do after the handover is complete. He holds a number of corporate non-executive roles, however, and could well make further inroads into private equity; he is currently also working as a 'business ambassador' for the Government.

Walsh has been CEO of Diageo for 13 years, but his career at the firm actually spans more than 30 years. He started as an accountant with Grand Metropolitan, the drinks company that merged with Guinness to create Diageo in 1997.

During his tenure at Diageo, Walsh has masterminded a series of acquisitions, including the purchase of Indian drinks corporation United Spirits, which owns the high-end Jura and Dalmore whiskies. He has also expanded Diageo into several other – now highly lucrative – emerging markets.

Diageo now sells liquor in 180 countries, grabbing vast swathes of market share in Turkey, Brazil, China and Africa by buying up local brands. This has proved a saving grace for Diageo, as sales in recession-hit Europe have slid. Walsh's strategy has been to focus on the core drinks business – he sold off Burger King in 2002 – and fuel a trend for 'premiumisation' – persuading punters to trade up to smarter booze brands.
Overall, Walsh's career at Diageo has been remarkably free of blips (Diageo is the current holder of the Most Admired crown and one of only a handful of companies to have won the accolade more than once). Up until last year, at least. Sales for 2012 hit £10.8bn with profits up 11% on the previous year. However, a bid to purchase the famous Jose Cuervo tequila brand stalled in December after the owners – Mexico's wealthy Beckmannn family – decided to hold on to their investment. Sales in the current financial year have also lost their fizz, with growth of a much-weaker-than-expected 5% in the first nine months.

Nonetheless, Dr Franz Humer, chairman of Diageo, said in a statement that Walsh had been an 'outstanding' chief executive, who served the business 'with enormous imagination and dedication'. Menezes added, '[he] leaves a fantastic legacy'.

Walsh says of his departure, 'It has been a privilege to lead this great company. Diageo is one of the world's leading businesses, a position it has earned through the efforts of every one of its talented people.' MT raises a glass to that…