Pay peanuts, get monkeys
A Japanese restaurant has started using monkeys to wait tables. Could this employment trend catch on?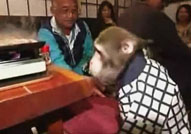 In these gloomy times, we think it's never been more important to keep our readers' spirits up. So we were delighted when news reached us from Japan about a novel approach to labour shortages: a traditional sake house near Tokyo called Kayabukiya has trained two macaque monkeys to act as waiters. Apparently the restaurant is using Yat-chan and Fuku-chan (as the monkeys are known to their friends) to serve drinks and supply hot towels between courses. And since they're paid largely in soya beans, we imagine this is a good way of keeping down overheads.
The two monkeys apparently used to be pets of the owner Kaoru Otsuka, until he noticed that they started copying his waiting efforts (let's hope the health and safety brigade weren't in town for that one). So Otsuka did the obvious thing: he put them in a mini-kimono and set them to work. Yat-chan is apparently the sake expert, while Fuku-chan has the slightly more straightforward task of distributing towels. (We're guessing this might sound like a six-month-early April Fool, but if you don't believe us, you can see the evidence for yourself HERE.)
Strange though it may be, the restaurant's customers don't seem to be too worried about being served by a simian. In fact, some appear to consider it an improvement: 'The monkeys are actually better waiters than some really bad human ones,' one satisfied customer was reported as saying, while another claimed that Yat-chan could even understand them when they asked for more beer (as long as there was a soya bean in it for him, presumably). So if nothing else – and even more so given their new internet stardom – employing the monkeys has been a marketing triumph.