The pay rise that's actually a pay cut
A report says average pay rises won't climb above inflation for at least the next year. Better start counting those pennies.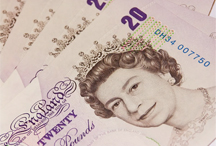 Feeling the squeeze? According to new research by Aon Hewitt, things aren't likely to get better for a while yet – in fact, while salary increases could be a little higher next year, they'll still remain below the level of inflation. Which of course is effectively a pay cut, since your salary won't go as far as it does now. Apparently, the average rise will go up from 2.5% this year, to 2.7% in 2011 – well below the pre-recession level of 4.6%. Unless of course you're an investment banker, or Wayne Rooney...
Despite that 0.6% growth next year, inflation is currently remaining stubbornly north of 3%, and isn't expected to drop back down to the Bank of England's 2% target any time soon – which means, in effect, 2011 could be the third year in a row without any real-terms increase in average salaries. And with the VAT rise due in January and the pound looking like it might get even weaker once all those cuts kick in, we're going to carry on feeling the pinch.
Still, let's look on the bright side: the number of companies reporting pay freezes are down, from 47% last year to 12% this year – and that's expected to drop even more next year. And although this year middle managers were the ones who saw the highest pay rises (at 2.5%), next year, it looks like companies will go back to focusing on their star performers. Apparently in 2011, their highest priority is going to be keeping the top talent happy, with pay rises of around 2.9% - practically the same rate as inflation. (Or, if you're Wayne Rooney, about 250% - and some of that is probably Aon's money, since they sponsor Man United).