Are payday lenders 'grooming' the next generation of borrowers?
Money Saving Expert founder Martin Lewis has waded into the payday lenders debate called for a ban on advertising on kids TV channels - just as Wonga's co-founder quits.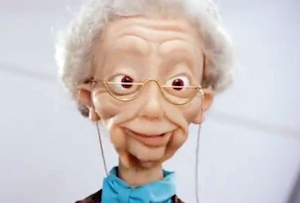 The puppets in Wonga's TV adverts and fun jingles by other paydays lenders could be appealing to young audiences and 'grooming' them to consider payday lending as normal, according to the founder of Money Saving Expert, Martin Lewis.
The accusation came as Jonty Hurwitz, the company's co-founder, announced his departure, leaving chief executive Errol Damelin to face the storm alone.

The money saving messiah was speaking to the Business Select Committee, which had been called to quiz lenders, consumer groups and regulators about the controversial industry. He called for a ban on advertising for payday lenders on children's TV channels.

'I think we are in danger of grooming a new generation towards this type of borrowing. And if you think we've got problems now you wait until 10 years' time,' Lewis told MPs.

'Grooming is the right term. We're talking about a market that didn't exist five years ago, and you've had people in arguing that this is how people like to use it. They've created the demand, they've created the operational structure, and now they're saying it's what people want. It's deliberately contrived and controlled,' he said.

Lewis said research carried out on his website had found 14% of respondents had actually been 'nagged' by their kids to get a payday loan when they had been told they couldn't have something.

'The payday loan industry insists it is not targeting children, but our research shows that kids are being dazzled by catchy tunes and cute puppets,' he said.

'That's why I'm calling on the Government and the Financial Conduct Authority (FCA) to intervene to restrict the nature of the ads and impose an outright ban from them appearing on kids' TV.'

It didn't take too long for the cigarette ad analogy to come up – well, you certainly wouldn't find the Marlboro man lighting up during Nickelodeon breaks.

'To be honest it reminds me of the old days of cigarette advertising where it was all very sexy and a good thing to be doing, and we didn't worry about health warnings,' said Gillian Guy, Citizens Advice chief executive.

The paydays lenders had been forced to defend their business models at the House of Commons. Other than the stick they got over their advertising, representatives from Wonga, QuickQuid and Mr Lender were questioned over their boast they could provide money to borrowers within a few minutes.

'When you're transferring money electronically you can do that very quickly. If you applied for a credit card, the application process would be as long as if you were applying for a short-term loan,' said Russell Hamblin-Boone, chief executive of short-term lending trade body Consumer Finance Association.

'The difference would be that you'd have to wait a few weeks for your credit card to come through as opposed to lenders who are able to transfer money directly.'

The Office of Fair Trading recently accused the lenders of having a business model based around people who could not afford to repay their loans on time but Wonga was quick to defend itself on that matter.

'Wonga's business is aiming to lend to people who can pay us back, that's how we make money. The vast majority of people pay us back on time. We freeze interest after 60 days and 25 per cent of people pay us back early,' said Henry Raine, Wonga's head of regulatory and public affairs.

He stated only 3% of Wonga's loans go over the 60-day period.

The debate looks set to rattle on – even Ed Miliband has taken the chance to dive in – coining the phrase, 'Wonga economy' and saying it is a symptom of the squeezed households all over the country. Who will be next to stick their oar in?