PayPal targets market stall holders
Traders at London's Covent Garden market will accept digital payments for the first time from today, and PayPal hopes the idea will catch on among small firms.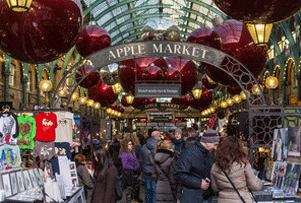 Covent Garden market traders have ditched an 800-year-old tradition of taking cash only and have started accepting digital payments. They are the latest business owners to sign up to PayPal Here, which promises to 'end the cashpoint dash' and help traders cash in on millions of pounds' worth of potential lost sales.

PayPal's card reader links to smartphones and tablets to allow users to accept credit cards and PayPal payments. Unlike rival systems offered by banks, which often have hefty credit card processing fees, PayPal has no monthly subscription fees and charges 2.75% commission for each transaction using chip and pin or PayPayl Check In.

Research by PayPal suggests businesses could be losing out on £800m worth of sales a year by not taking card payments, but 64% of small businesses don't accept them because of pricey set up and monthly usage costs.

Of course, PayPal isn't the only service offering an easy cashless payment service. Here are some other alternatives that have been making waves:
Square
One of the first services to allow businesses to accept card payments through smart phones, Square was launched in 2010 by Twitter founder Jack Dorsey. The product plugs into the headphone sockets of smartphones and operates through a downloaded application. Since Starbucks invested $25m (£16m) in the electronic payment device back in August 2012 and launched it in 7,000 shops, Square has taken off in the US. However it has yet to catch on in Europe in the same way and currently isn't available in the UK.
iZettle
Swedish company iZettle is hoping to capture the European digital payment market, and claims to have around 75,000 users. iZettle is a chip and pin reader that plugs into iPhones, iPads and a number of Android smartphones or tablets. Through the iZettle app, iZettle merchants pay no subscription, set up fee or monthly fee, and iZettle charges commission of between 1.50% and 2.75% per transaction, depending on volume.