Peer pressure against free-riders
The differences between western and Japanese workplaces have been well documented. Japanese companies tend to rely on teams whilst western organisations are more individualistic. But just like any other society, Japan has its free riders and its very own system for dealing with them: peer pressure.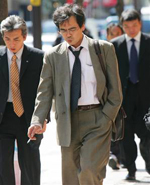 A new paper by Gianandrea Staffiero, a research fellow at IESE, documents the darker side of team work in Japan. Japanese people, the author says, might well work in teams, but many are coerced to do so by their colleagues.
Staffiero explains that the Japanese have an aversion for 'unfavourable inequality', to the extent that individuals are prepared to sacrifice their own interest in order to rein in free-riders. This tradition also accounts for the high level of mutual monitoring.
Japanese groups often resort to peer pressure to sort out dilemmas or individualistic behaviours. Rather than cooperative, Staffiero therefore argues that the Japanese system might be referred to as exploitative.
The prevalence of long-term employment, a feature of Japanese business, makes the practice of peer pressure all the more effective since employees tend to stay with the same company for most of their career.
Source: Peer pressure in the Japanese firm
Gianandrea Staffiero
IESE Insight Nov 2006
Review by Emilie Filou