Peer-to-peer lending hits the big time as Funding Circle raises $65m
LAUNCHPAD: Peer-to-peer business lending is going mainstream as the crowfunding site targets US expansion.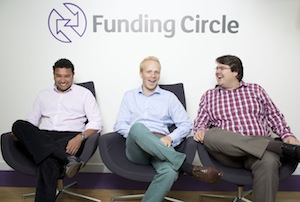 Funding Circle has helped more than 5,000 UK businesses borrow more than £300m since launching in 2009 and it turns out it's a dab hand at raising money for itself too. The peer-to-peer lending platform has secured $65m (£38m) and appointed a Wall Street big dog to its board as it targets US expansion. Peer-to-peer lending is hitting the big time.

The Series D funding round was led by Index Ventures, which has backed everything from Dropbox to Skype, and previous investors AccelPartners, Union Square Ventures and Ribbit Capital. It means the crowdfunder has now raised $123m, just nine months after it's last $37m fundraising.

The company is on track to facilitate lending of $600m this year, $100m of which it expects to be in the US, where it launched at the end of 2013. At the start of 2014 $300,000 of American loans were going through the site. In June it was more than $6.5m.

In its quest to expand Stateside, Funding Circle, which says businesses can get a loan in 7 days compared to 15-20 weeks through a bank, has also scored a big-name board appointment: Robert K Steel, the chief exec of boutique investment bank Perella Weinberg, ex-deputy to former New York mayor Michael Bloomberg and an ex-senior US Treasury official.

'I have been impressed with the growth of the company over the past four years, and believe there is a unique opportunity for marketplace lending to revolutionize access to finance for small businesses across the globe,' Steel said in a statement.

Just last month, Funding Circle announced a tie-up with Santander in the UK, which means the bank will refer on customers it doesn't want. As banks continue to tighten up their balance sheets and limit their loans to small business, peer-to-peer lending is only going to get more mainstream.