Is the pen mightier than the killer robot?
Stephen Hawking, Elon Musk and a whole host of computer scientists have published an open letter calling for a ban on AI weapons.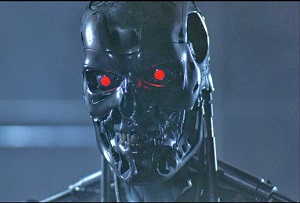 Why does everyone have such a downer on killer robots? There seem to be quite a few upsides. Replacing squadies with platoons of plasma rifle-toting terminators could reduce civilian casualties, provide a nice boost for our aerospace and munitions industries and even come in handy in the event of more realistic doomsday scenario, like a zombie apocalypse.
Not everyone subscribes to this view, of course. A dream team of academics and tech business big wigs has written an open letter arguing that bringing AI into warfare would be a 'bad idea' and should be prevented by 'a ban on offensive autonomous weapons beyond meaningful human control'.
Tech legends Elon Musk and Steve Wozniak joined Stephen Hawking, Noam Chomsky, Demis Hassabis, boss of Google's AI unit Deepmind, and thousands of eminent computer scientists as signatories to the letter, which was drafted by the rather grandly named Future of Life Institute and delivered at an AI conference in Argentina.