Pence and Sensibility: Austen to be the face of the Tenner
The author will replace Charles Darwin on the new £10 note, the Bank of England said today.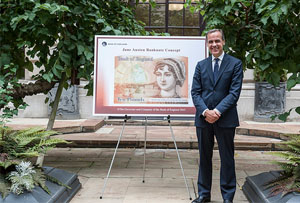 It is a truth universally acknowledged that a Bank of England governor in possession of a good fortune must be in want of a lady to feature on his £10 note. The issue has been debated since May, when it emerged that the only woman other than the Queen to feature on bank notes was to be replaced.

Among the women mooted to take the place of prison reformer Elizabeth Fry as British currency's face of femininity were George Elliot, Mary Wollstonecraft, Emmeline Pankhurst and Florence Nightingale (only one lady at a time, please).
The lucky winner, though, is Jane Austen, who will replace Charles Darwin on the £10 note from 2017 (although Fry will vanish in 2016 – meaning we spend a year without female representation on a banknote. Well, we wouldn't want to give these wimmin the wrong idea. They'll be asking for fair representation on FTSE 100 boards next).
This hasn't come as an overwhelming surprise: in his last public appearance as Bank of England governor, Sir Mervyn King said Austen was 'quietly waiting in the wings' to take her place on banknotes. The issue was taken up by new governor Mark Carney, who spent part of his first day on the job debating the issue.

Today, the Bank it had never been its intention that a woman would be missing from the four characters on banknotes.

'Jane Austen certainly merits a place in the select group of historical figures to appear on our banknotes. Her novels have an enduring and universal appeal and she is recognised as one of the greatest writers in English literature,' it said.

More importantly, it also announced a review of the way it selects the people who appear on notes. As Austen herself once said: 'One man's style must not be the rule of another's'.