Penguin Random House boss Gail Rebuck: Attitudes to women CEOs were Neanderthal
You Live & You Learn: Dame Gail Rebuck, Chair of Penguin Random House UK, on starting at the bottom, dealing with sexism and the Fifty Shades phenomenon.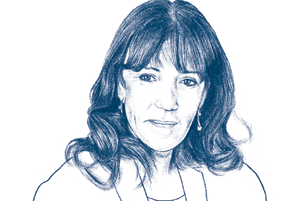 I had a very inauspicious beginning as a production assistant in a children's book packager. I was pretty hopeless when I left university because I couldn't type, and I learned about publishing from the bottom up. I'd always loved reading. When I was young, the high point of my week was going to Marylebone Library and staggering out with great piles of books, as we didn't have any at home. Both my parents left school at 13 and worked incredibly hard, but they read a lot more now.
I started my own publishing company, Century (which later merged with Hutchinson), a few years into my career. After it was sold again to Random House, I took over as CEO of the whole operation in 1991. The companies had been losing money and it took two years to become profitable again. The challenge was to balance creativity and profitability. We restructured completely and published fewer books.
Attitudes to women CEOs were fairly Neanderthal. One publication described me as a Barbie doll who crunched diamonds between her teeth. Women were seen as either compliant or some kind of monster. Attitudes have changed a lot, but not completely. I don't agree with quotas but the threat of them is a good thing, because it keeps executives' eyes on the pipeline.