Pension schemes shed £65bn in 2008
This year's crunch has left us all a bit worse off. FTSE 100 pension pots alone may be up to £65bn poorer...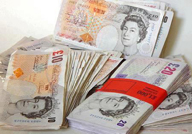 It's not just chastened bankers who will lose out as a result of this year's financial turbulence. According to new research from Deloitte, the pension schemes of the UK's biggest 100 listed companies have lost £65bn in the last year – in other words, plummeting asset prices and equity markets have combined to wipe out five years' worth of pension contributions in the space of just 12 months. In fact, Deloitte reckons that the FTSE 100 pension pots are now an eye-watering £130bn in the red.
And with the economy facing a painful 2009, the situation could get a lot worse before it gets better, says Deloitte. Asset prices are likely to drop even further, while lower interest rates will make government bonds more expensive – so deficits are likely to spiral even higher. This is bad news for the companies concerned, because they'll probably be asked by trustees for extra cash to cover the scheme's costs – cash that could otherwise be used to finance much-needed investment in the core business.
So all in all it's a pretty gloomy picture from Deloitte, which points out cheerily that the average FTSE 100 pension fund has returned a downright dismal minus 17% over the course of the year. Even with the caveat that some of the funds will have done a bit better than this – i.e. the ones who didn't put all their money in banking stocks – that's a depressing statistic for the thousands of employees who have been dutifully paying into these schemes for years. Turns out they'd have been better off stuffing their money under the mattress…