Pension warning after £100m Government cock-up
Most of us are relying on a state pension - despite the fact the Government can't organise its own scheme...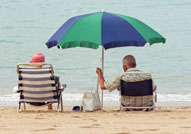 The Government shamefacedly admitted today that it has overpaid 95,000 retired public sector workers – a cock-up that may have cost the public purse about £100m. Although it won't be trying to reclaim this cash directly (sending the boys round to squeeze some pension money out of retired servicemen wouldn't be too clever politically) it may now have to reduce future payments – just the kind of news these pensioners need as the interest rate on their savings becomes negligible. In other words, the Government can't even run its own pension scheme properly – so it's a bit worrying that so many of us are banking on a state pension to fund our retirement…
New research by pension consultancy JLT suggests that 41% of employees now believe their pension pot will be insufficient without help from the state pension, with one in three claiming to be 'very worried' about their lack of retirement funds. And it's not really surprising – for the last decade people have clearly been expecting the burgeoning value of their house to fund their dotage, but the slump in the property market has put paid to that. To compound matters, anyone who's had money in shares will have also lost a pile this year, while they're unlikely to get a decent return from their savings any time soon.
Indeed, this year's financial travails have been hugely damaging for pensions across the board. All the big pension funds have shrunk this year as asset prices have plummeted, and there have been some eye-watering estimates as to the size of the black hole it's created. The public sector deficit alone is thought to be about £1trn, and the CBI suggested earlier this week that over-generous final-salary pension schemes for state retirees were costing British taxpayers a whopping £32,000 each (and that's presumably not including the cost of fixing its mistakes).