Permira walks off with Dr. Martens for £300m
The British boot maker has been bought by private equity firm Permira.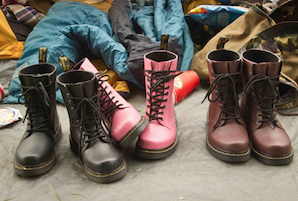 Dr. Martens, the company whose boots have been the preserve of skinheads and general anarchists for decades, has been bought by a private equity firm Permira for £300m – oh the irony.

Dr Martens will join slick suit-maker to the stars Hugo Boss and bargain fashion label New Look on London-based Permira's portfolio – making for an interesting spread.

'Permira Funds have expertise in backing global brands, demonstrated with Hugo Boss and Valentino,' Cheryl Potter, partner and head of the consumer team at Permira, said in a statement.

'We are looking forward to supporting the management team in this exciting next phase.'

R. Griggs, the parent company which has been making boots since 1901 and has been famed for making the thick-soled Dr. Martens boots since the 60s, will be part of the acquisition.

Whether or not its new ownership will put the boot into Dr. Marten's edgy reputation remains to be seen – but we'd wager Cheryl Potter doesn't go to bed wearing hers, like Pete Townshend once famously claimed to do.