Persimmon reveals mixed results as John Lewis toasts sales
House builder Persimmon hasn't had the best of quarters - but John Lewis has got the festive season off to a cracking start.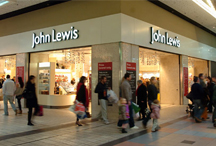 Last month saw one of the sharpest falls in house prices since the end of 2007, new figures have shown – which came as a blow to house builder Persimmon, which has reported mixed results between July and November. The group says that while it's still on track to hit its original sales forecast, the fact that first-time buyers still can't get mortgages is having a serious impact on the sector's recovery. The opposite is true of John Lewis, though, which saw a huge jump in sales last week as the Christmas shopping season got off to a strong start. Hallelujah, etc…

It wasn't all bad news for York-based Persimmon: the company says that by the end of the year, it expects to have increased its sales revenue by about 10%, completing the sales of 9,400 houses, compared to 8,976 last year. With sales volumes relatively stable and margins staying put, the firm says it expects to be able to decrease its debt to just under £80m. But it also added that with the drop in the number of first-time buyers, the annual autumn jump in the number of prospects hasn't materialised, which could have a serious impact on its finances next year. Apparently, it all depends on what happens in the spring.

John Lewis, on the other hand, has had a thoroughly enjoyable week, with sales up by 11.5% to £77m – up by an impressive 7% on the same week last year. Ironically, given the Persimmon results, the main demand was for 'home-related goods' like towels and bedding (and, presumably, the odd box of Christmas decorations) as customers got their houses ready for an influx of festive visitors.

It's pretty good going, especially in the face of weak consumer confidence. But, given that John Lewis is one of the best-loved names on the high street, there are indications that these figures might be an exception, rather than the rule. MD Andy Street has already said that his hunch is the figures will be better than the rest of the market. 'This is a very robust performance, and in contrast to what everyone else is saying about things being difficult,' he added.

The question now is whether John Lewis can keep up such counter-cyclical results next year. With VAT up to 20% and the spending cuts biting, 2011 looks to be a hard sell for retailers.
Do you think John Lewis can continue on this path to success? What do you think sets it apart from other retailers? Let us know below...