Persimmon share price builds as profits surge 57%
Strong results for the housebuilder are further evidence of a healthy housing market, but only outside London.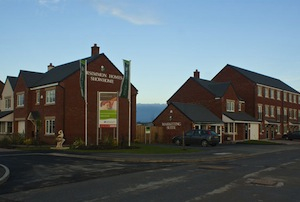 This is turning into a good news week for UK property companies. Persimmon shares rose more than 1% to £13.49 in mid-morning trading after the housebuilder announced a 57% rise in pre-tax profits to £212.9m in the six months to June 30th, only a day after rival Bovis Homes announced similarly bumper results.

Like Bovis, Persimmon seems to be optimistic (unsurprisingly) about property market prospects despite recent jitters over stricter mortgage lending rules and the possibility of an interest rate rise early next year. The company reported 6,408 completed sales in the period, up 28% from last year, and has announced plans to develop 100 new sites in the next six months.

The results are a further indication of a housing market recovery, but this time outside of London. Persimmon and Bovis both steer clear of the capital, which has an inflationary bubble on an entirely different scale. Figures released by the ONS today revealed that London prices had risen 19.3% in the last 12 months to June 2014, compared with 6.3% for the rest of England, 6% for Scotland, 4.9% for Northern Ireland and a measly 3.5% for Wales.

It remains to be seen whether the mortgage lending measures will rein in London's runaway, foreign buyer-fuelled house price inflation, although it has moderated somewhat from the 20.1% rise in the year to May. But these results suggest that the bricks 'n' mortar bounce is spreading beyond the capital at last.