Peter Erskine
From hardworking east London origins, Erskine cut his commercial teeth in sales and marketing before heading to BT, where he masterminded the recasting of struggling Cellnet into soaring O2, now the UK's leading mobile operator. Then he sold it to Telefónica for £17.7bn - and he's still the boss.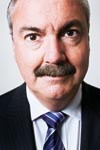 There is an ease to Peter Erskine that belies his status, a blokishness that sometimes catches you off-guard. 'Sorry I'm late,' he says, moustache bristling. 'Fancy a tea? Water?' He helps himself from the table in the anodyne office at the City of London block where I've waited, then listens while his communications chief explains the schedule: chat with me, then photoshoot for the MT spread.
Erksine starts to look a little grumpy. 'But I want to make sure we get enough time to chat,' he says, almost as if it wasn't his fault he was a quarter of an hour late. 'Photos... ' He makes a face. He doesn't like having his picture taken. But the photo is important, we tell him. 'Oh, all right then,' he agrees, suddenly jovial again.
'So, what do you want to know?' he says, lowering himself into a comfy armchair, clutching a tumbler of Highland Spring. Behind the weariness, there's a twinkle in the eye. He could be the favourite uncle at Christmas, cradling a whisky.