Peter Mandelson won the debate with Nigel Lawson on the EU - just
It was like seeing two scuffling silverbacks go toe to toe - shame there wasn't a vote at the end, says Christine Armstrong.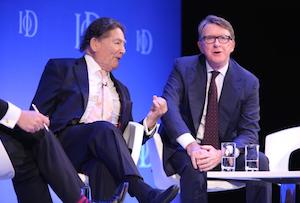 Lords Mandelson and Lawson battling Britain's membership of the EU at the Institute of Directors (IoD) annual convention today brought to mind two faded silverbacks scuffling for dominance. Fascinating and tinged with nostalgia.
Lawson didn't help this impression by grounding his views in a dinner party debate he had with Hugh Gaitskell in which he argued for Europe and Gaitskell argued against, He now concedes he was wrong. For those under 60, Gaitskell was leader of Labour from 1955 to 1963. Yes I had to check on Wikipedia and I have a politics degree.
Lawson believes that the EU is a political project first and an economic union second. That it creates both a democratic deficit and a bureaucratic surplus - which the UK could function better without. He is scathing of Cameron's chances of serious reform.