Petrochemical plant at Grangemouth to close
The dispute between Grangemouth owner Ineos and workers has resulted in the site's petrochemical plant going into liquidation.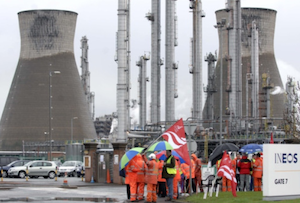 The grand game of chicken being played between Grangemouth's owner Ineos and the Unite union has resulted in the closure of the site's petrochemical plant. Ineos really wasn't bluffing after all.

The announcement was made at a meeting with the site's workers, who earlier this week rejected a rescue plan from Ineos, which proposed changes to pensions, overtime and shift work. Ineos has said liquidators for the plant will be appointed in the next week – the petrochemicals plant directly employs around 800 of Grangemouth's 1,370 staff.

The fate of the oil refinery, which has been closed since last Wednesday, remains unclear. The company said a decision on whether to fire up the plant, which provides the majority of Scotland's fuel, will be taken once the threat of industrial action has been removed. But, Ineos chairman and founder Jim Ratcliffe commented a few days ago that if the petrochemicals plant were to close, the refinery wouldn't be far behind it.

'The company made it clear that rejection of change would result in closure,' said Ineos in a statement.

'Regrettably, the union advised union members to reject any form of change…The shareholders met yesterday to consider the future of the business following the result of the employee vote. Sadly, the shareholders reached the conclusion that they could not see a future for Grangemouth without change and therefore could no longer continue to fund the business.

'As a result of this decision, the directors of the petrochemicals business have had no option but to engage the services of a liquidator. It is anticipated that a liquidation process will commence in a week.'

Ineos had warned the plant was losing £10m a month and without significant investment and a change to employee terms – it would go bust by 2017. It had offered to plough £300m into the plant if workers agreed to Monday's offer.

The closure of the petrochemicals plant and uncertainty around the oil refinery has jolted the governments in Holyrood and Westminster into action. On Monday, Scottish finance secretary John Swinney revealed the government was seeking another buyer for the site (which in total, accounts for a whopping 10% of Scottish GDP). Now Scotland secretary Alistair Carmichael and energy secretary Ed Davey are planning a meeting to discuss the best course of action.

The strife is no doubt giving Scottish first minister Alex Salmond some sleepless nights. The site is Scotland's biggest employer and Scotland's only oil refinery - it pumps out 210,000 barrels a day, processing the oil and gas produced by the North Sea – the linchpin of Salmond's argument for Scottish independence.

The term McOmnishambles springs to mind.