PHIL ORFORD: 'Rohan Silva's wrong about lobby groups'
The ex-tech policy adviser says entrepreneurs need a 'trade union', but they have all the support they need.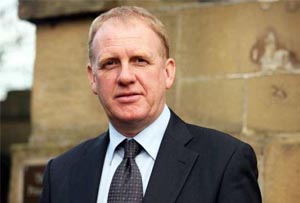 Last week former tech policy adviser Rohan Silva made the fair - though by no means new - argument about the lack of government contracts going to small businesses. Historically, it is true that many such businesses feel shut out by lengthy government procurement processes, though it is equally true to say that the Cabinet Office has made significant steps forward in recent years.

He went on to lay some of the blame for that failure at the feet of the business community. His argument went that government is very keen to help small firms but cannot find the right companies to deliver. He promoted the idea of a union of entrepreneurs because businesses are failed by their trade organisations. I do not agree with that statement.

Mr Silva is a very well respected former adviser to the PM. Within Number 10 he was a valuable asset to the policy team and a powerful advocate in standing up for small business. Now outside of Number 10, he has made the courageous and admirable decision to begin his own company. I have nothing but respect for his achievements.

However, his point of view comes as a successful entrepreneur, not as a well-established small businessman, and to my mind fails to acknowledge the nuances between the two.

Let me explain. The Coalition is fond of saying small businesses are the 'backbone of the economy', but policy seems swayed more at those who either want to start or grow a business. For the past few years, both budding and veteran entrepreneurs have enjoyed unprecedented access to policy makers and it is true to say that the fruits of their labour are showing in a very positive way.

On the other hand, when we cast a light on the rest of British businesses, the ones that can't or choose not to grow, or even are growing more slowly, there is more mixed policy success. On the positive side, there are welcome changes to tribunals and unfair dismissals, and a simpler tax regime. Counterbalancing these are costly new rules around flexible working and the removal of default retirement age, unnecessary regulatory interventions into areas functioning well enough already.

The truth is that the businesses community is a multi headed beast, encompassing everything from billion pound turnover multinationals to market traders, from rural tenth-generation agriculture to cutting edge, single-person technology companies. Influencing policy is hard for small businesses, not because of a lack of voice but simply through their sheer diversity.

No doubt that part of the problem is the frequency with which I hear the phrase 'SME' within government. There is simply no comparison between the 'M' - a 250-person company exporting overseas and sitting on wealth reserves – and the 'S', a 10-employee business in any British high street, industrial estate or office.

The membership of organisations like the Forum of Private Business is at that 'S' end, businesses typically with less than 10 employees and normally without a dedicated HR function. First and foremost they join a business organisation for support, accessing advice that is cheaper than other outsourcing. They also join because they lack the budget to effect policy change individually and value our collective representation to government. So while there is an array of businesses within our membership – from entrepreneurs to mid caps - we can drill down to find commonality of complaints, on which we then lobby on their behalf.

It is true that the government increasingly recognises the distinctions between sectors – no better articulated than in its industrial strategy – but it is too simplistic an argument to blame business representatives for the anachronistic workings of government. Instead, it needs to fully embrace the rich variety of businesses and ensure that policies are flexible enough to deal with their needs and not prescriptive in the way they are implemented.
- Phil Orford is the chief executive of business organisation the Forum of Private Business