Phones 4u 'assassinated' by EE and Vodafone
There's mudslinging on both sides, but the mobile networks are coming off looking worse so far.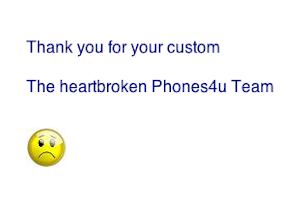 The collapse of a business is normally a time for bowed heads and introspection, especially when it's on the beloved, beleaguered high street – think Woolworths, Jessops and Blockbuster. But in the case of Phones 4u, which fell into administration on Sunday night, accusations are being traded faster than speed dial.

The retailer shut the doors to its 550 standalone stores yesterday after EE became the final mobile network to axe its contract. The company's private equity owner BC Partners accused Vodafone, which dropped Phones 4u earlier this month, of 'behaviour [that] appears to have been designed to inflict the maximum damage to their partner of 15 years'.

But Vodafone hit back, pointing the figure at BC Partners, which bought the retailer three and a half years ago for £600m. 'We were told by the Phones 4u management team that they had little commercial flexibility due to their debt repayment obligations,' a spokesman told the Telegraph. 'Phones 4u was offered repeated opportunities to propose competitive distribution terms.'

The aforementioned debt included £205m in 10% interest bonds, the proceeds of which were paid to BC Partners as a special dividend after being placed on the Irish Stock Exchange last year.

And the mudslinging isn't over yet. 'This is a shoddy way for Vodafone to deflect attention from their actions,' a Phones 4u spokesman said. Meanwhile, John Cauldwell, who founded the high street chain in 1987 and sold it in 2006, did the media rounds this morning, accusing the networks of 'assassination'.

He said the claim Phones 4u had 'dug their heels in' during contract negotiations was 'preposterous'. 'I simply don't believe Vodafone,' he told the Today programme (although he also said the company's debt had made it more 'vulnerable'.

Back-and-forth accusations don't look good for either side, but now Phones 4u is underwater it has far less to lose. And Vodafone and EE, which actually thought about buying the retailer together earlier this year, according to Sky News, should remember it has public sympathy on its side – 5,596 jobs are under threat after all.
The company that is coming out of this looking pretty unscathed is Dixons Carphone, which has said it wants to offer jobs to the 800 or so staff in the 170 Phones 4u concessions in Dixons stores. The merger, which put it in a better position to negotiate with the networks and, ultimately, beat down its rival, now looks very conveniently timed indeed.
With regards to our Phones 4U shop-in-shop colleagues we hope to help them secure new jobs with us (1/2, important)