Phones 4u collapses - good news for Dixons Carphone
The phone shop goes into administration after EE hangs up. Its bitter rival will be pleased.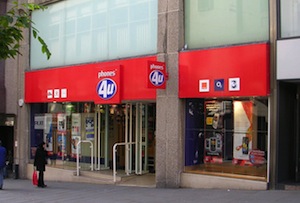 Phones 4u dramatically collapsed into administration last night, after EE became the final mobile network to hang up on the retailer. As of this morning, the doors to the symbol of now-passé early noughties texting are firmly shut, as administrators PwC figure out if its 720 outlets can survive.

Its private equity owners BC Partners said it had no other option after the UK's largets mobile operater decided not to renew its contract, which accounts for around half of the retailer's £1bn annual sales, according to the Telegraph.

It was the final nail in the coffin for Phones 4u, after Vodafone, which accounted for about a quarter of revenues, pulled the plug on its contract earlier this month. O2 had already backed out in February. The networks, which have their own bricks and mortar stores, are clearly keen to cut out the middle man.

BC Partners said 'it is intended' that the 5,596 staff 'will continue to be paid until further notice'. Meanwhile, Phones 4u, which made profits of more than £100m in 2013, said it was 'heartbroken' on its website, illustrated by a rather retro emoji.
'Today is a very sad day for our customers and our staff. If the mobile network operators decline to supply us, we do not have a business,' said Phones 4u chief executive David Kassler.

'The ultimate result will be less competition, less choice and higher prices for mobile customers in UK,' he warned.

While mobile phone users may indeed lose out – at least in the short term while the industry adjusts – the retailer's collapse will prompt a stream of smiley emojis from its newly-merged bitter rival Dixons Carphone (whose partnership is probably, at least in part, a strategy to ward off the aforementioned efforts of mobile networks to direct customers to their own stores). Its shares were up more than 2% to 379.9p in mid-morning trading, having spiked as high as 386.5p earlier in the day.