Phones to get smarter in 2008
The much-vaunted iPhone is likely to shift a few units this Christmas, judging by the crowds in the Apple store. But it's not just Steve Jobs who will benefit – the whole smartphone industry will get a boost.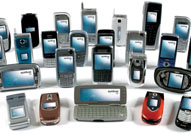 Smartphones, mobiles with PC-like functionality, currently account for about 10% of the phone market, but in 2008 that's set to increase. This is partly due to the iPhone effect, as Apple looks to bring the concept to the mass-market, but it's also because these devices are getting ever smarter and more affordable.
We're already massively reliant on our mobiles for voice and text messaging, plus all the extras – more and more people want a single device that will also act as a camera, music player and navigation aid. But according to Symbian, maker of the operating systems behind several smartphones (although not the iPhone), this is just the tip of the iceberg. By the end of 2008 we could also be using our devices for electronic payments, security tagging, watching TV, video recording and location mapping, amongst other things. In Japan, they're even going mad for a motion sensor that allows your phone to make light sabre noises when you wave it around...
Equally importantly, they're getting cheaper to use. Smartphones used to be the preserve of techno-geeks and people with more money than sense. Now phone companies are so keen to get us using them – because they offer more services and thus generate more money per user – that they're making it cheaper for us to buy and use the phones.