Pimco chief exec El-Erian resigns
The head of one of the world's biggest investors has stepped down, meaning Ed Balls' brother Andrew gets a promotion.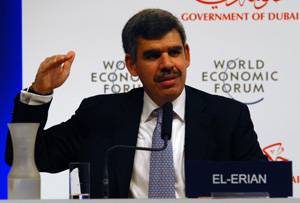 Pimco's chief executive Mohamed El-Erian, widely viewed as founder Bill Gross' heir apparent, has resigned after six years at the helm of the world's biggest bond business.
Co-chief investment officer El-Erian – the first Pimco manager to share that title with Gross – will step down from the asset management giant in March. The 55-year-old will stay on the International Executive Committee of Pimco's parent company, Germany insurer Allianz, and advise the board on 'global economic and policy issues,' Allianz said in a statement.
No reason was given for El-Erian's departure, nor any clues about where he's headed next. It'll leave a big hole in business news schedules, though: El-Erian regularly takes to our screens to expound his views.