Pink pound wobbles in the recession
The demise of a leading gay bar operator highlights the travails of this once-booming sector...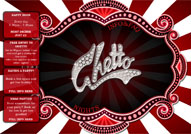 News that gay club operator Popbarz has just gone into administration is symptomatic of a wider decline in London's gay business scene. That's according to an interesting report in today's Evening Standard, which argues that the power of the once-lucrative 'pink pound' is waning in the downturn. Like the rest of the leisure sector, this particular segment is suffering now we've all had to stop frittering away so much money on nights out - but equally it's facing some more fundamental challenges all of its own...

Popbarz, which owns various gay bars and clubs both in London and beyond (including 'celebrity haunt Ghetto', the Standard informs us - we'll take its word for it), had suffered a 'significant downturn in trade' during the recession, according to its administrators Ideal Corporate Solutions (rather a misnomer for a business that specialises in winding companies up). Even a move from Old Street to Soho last year to escape the high rents has failed to resolve its woes, and it's now gone the way of all fleshpots. Nor is it the only one: according to the Gay Business Association, the number of gay bars in London has now fallen by 40% in the last five years.

But as this timeframe shows, this isn't just a recent trend, driven by the economic climate (though obviously that hasn't helped). As with many once-flourishing sectors, technology has been one of the biggest reasons for its decline: now that gay people can meet online, they have less need to go to bars (although that's presumably creating other business opportunities - the pink pound is just being spent in a different place).
Ironically, greater social acceptance of the gay community may not have helped the bars' cause either; Out Now boss Ian Johnson told the Standard that there seemed 'less of a need for community-specific bars and clubs'. This might sound like a positive thing for the country's social cohesion, but it's not so good if you're running a gay bar. As a result, many are now having to attract straight customers too in order to stay afloat.

The other downside of all this, as Johnson points out, is that gay tourism can be a big boon to a city's economy; the likes of Berlin and Helsinki, who have actively promoted themselves as gay-friendly cities, have apparently seen a big surge in visitor numbers. And if all the bankers disappear to Geneva, London is going to be a lot more reliant on tourism revenue...

In today's bulletin:
Thank goodness for the Germans, as Bank bashes the City
'Snow chance' - angry banks block £1bn SME fund
BA gets court to block Christmas strike
Pink pound wobbles in the recession
Be careful about letting your hair down this Christmas