How to pitch for a step-change
Life is not a pattern of gradually evolving improvement. It's a series of long, fallow patches punctuated by moments of crucial change. How you handle the fallow stretches doesn't matter much. How you handle the moments of change is vital. That's true in business: the moment of crucial change may be an interview for a new job; the board agreeing (or failing to agree) your plans for a new direction in the coming year; a presentation to win a big new project...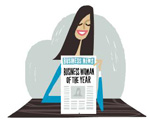 It's these moments when you're pitching for a step-change that things really matter. In eight detailed steps, Stephen Bayley and Roger Mavity help you put the magic into that pivotal moment of opportunity.
It's Theatre, Not Information
The pitch moments - those crucial instances that give the opportunity for major change - all have one thing in common. You are trying to get someone else to do what you want them to do. People always assume that the key to these moments of persuasion is to present the information that should make people change their minds (here's the logical reason why you should lend me a million pounds...), but, actually, these encounters depend much less on logic and much more on emotion.