Pizza Hut fights for larger slice of UK delivery action
Aggressive expansion is on the menu for Pizza Hut's delivery business as it hopes to catch up with arch-rival Domino's.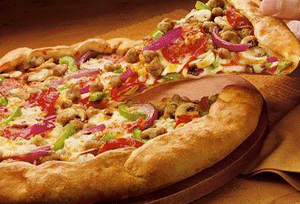 Pizza Hut Delivery is forking out £20m to open 100 more takeaway outlets in the UK by 2014, creating up to 2,000 jobs. And the growth doesn't stop there, as it hopes to eventually match rival Domino's Pizza 700-strong chain. The pizza delivery company, owned by US food giant Yum!, wants to boost its total number of delivery stores from 300 to 700 in the long-term.
Pizza Hut is hoping to cash in on the recessionary trend of ordering a takeaway, rather than eating out – a trend which has left its delivery business in a very different shape to the restaurants. Pizza Hut's 'eat-in' restaurants have been struggling with poor sales recently. Sales for 2011 fell to £330m from £346m in 2010, and losses jumped from £20.6m to £24.1m.

Such are the widening fortunes of the two parts of the business, it has now been split in two. Last month owner Yum!, which also owns the Taco Bell and KFC fast food chains, offloaded the UK Pizza Hut restaurant empire to turnaround firm Rutland Partners. Although the terms haven't been released, it's thought Rutland paid a token £1 for the 330 restaurants and will spend around £60m sprucing up the troubled chain.

Yum! will invest £4.5m in incentives for franchisees of its delivery business. Pizza Hut says that supporting franchisees in new and existing stores is a key part of its 'aggressive expansion' plans.

Pizza Hut Delivery's spokesman Mark Fox said the investment would 'increase its marketing spend, drive the outlet numbers and visibility of Pizza Hut Delivery, and create opportunities for franchisees to grow their businesses quickly.'

But it may have some way to catch up with Domino's. The tech savvy arch-rival, which has been cashing in on the runaway success of its mobile app, announced earlier this year it is continuing its march across Europe, opening more stores in Switzerland and potentially entering the Polish and Austrian markets.