Plastic fantastic? New bank notes on the way says Carney
It's official - sterling banknotes made of plastic rather than paper will be introduced in 2016, starting with the £5 and £10 notes, says BoE.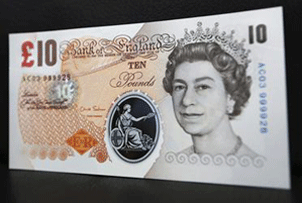 The first plastic note will be the fiver, featuring - of course - the grizzled fizzog of Sir Winston Churchill. The old bulldog might even have approved - all that blood, toil tears and sweat must have played havoc with Winnie's folding money after all. (Although that term may itself fall out of use, as the new money will apparently not stay folded).

Second in line will be the tenner, bearing the image, not of Mrs T (arguably our closest female analogue to Churchill) but the rather more imaginative one of novelist and independent thinker Jane Austen. A single man in possession of a good fortune being these days not so much in want of wife, as in want of an innovative new wipe-clean banknote, it seems.

Traditionalists will be pleased to note that the printed design of the notes will remain the same, that being perhaps a change too far for the conservative folk at the Bank of England.

So what's wrong with out existing paper money then? And how much of this is down to the fact that new governor Mark Carney is a known fan of plastic notes, having introduced them during his time as governor of the Bank of Canada?

The answer to the first question seems mainly to be durability. Paper notes - even those made, like ours, out of high-grade cotton pulp rather than the cheaper wood variety - simply don't last very long. A matter of months according to some reckonings.

Plastic notes are hardier - Canadian $20 bills have an estimated lifespan of seven years. They can even withstand a trip through the washing machine, allowing us all to become money launderers in future, arf arf.


So even though they cost twice as much to make as the paper equivalent, plastic notes more than pay for themselves on a whole life basis. Exactly the kind of long term economic thinking you would hope for from a responsible ecentral bank.

There are claims that security is better too, although views seem to differ here. The new £50 note is paper, point out plastic bashers, and one of the most secure in the world.

As to the suggestion that Carney has rushed this decision through as a sign of agility and innovation to some of his less flexible colleagues, perish the thought. The Bank insists that the matter has been under consideration for years.

The new notes will be printed on polypropylene sheets provided by Australian outfit Innovia - a blow to current contractor De La Rue which makes annual revenues of £50m-£60m from both supplying and printing paper sterling bank notes. The firm is expected to keep the printing contract, but margins will doubtless be lower if someone else is providing the base material.

If the roll out is successful, we can probably expect a full transition to the new material within a few years. So it might not be too long before consumers have no option but to 'Put it on the plastic'.