Plastic fantastic
Tales of woe may abound in the financial markets, but one company appears to be keeping the British end up. SSL, owner of the Durex and Scholl brands (an unlikely pairing if ever there was one), posted an upbeat results statement on Tuesday after seeing a big jump in first-half profits.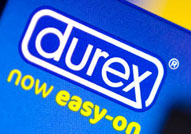 The company saw pre-tax earnings rise 18% to £22.9m in the six months to September, on sales of £263m. A one-off charge for supply chain restructuring left it slightly in the red for the period, but this should pay for itself within three years.
Sales were up for both of SSL's two main brands. Scholl footwear was the star of the show, enjoying a 19% increase after a major design overhaul, while the footcare range (which treats cracked heels and the like, apparently) saw an 11% rise.
Durex sales, which account for over a third of the total, were up by 9% - and SSL is bullish about its future prospects. Not just because Christmas is the peak period for condom sales (if you've ever been to an office party, you can probably guess why) but also because new products are starting to take off. 'Our lubricants range has performed particularly well, thanks to wider distribution and growing consumer acceptance,' chief executive Garry Watts said on Tuesday. Which is not a sentence you see every day in stock market announcements.