'Please stay in EU,' Merkel begs Cameron
The German Chancellor last night pleaded with the British Prime Minister to ignore Conservative Party pressure to leave the EU. 'You can be very happy on an island, but being alone in this world doesn't make you any happier,' she said.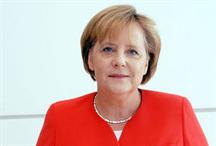 Angela Merkel arrived in London yesterday to plead her case to David Cameron. A 'strong' Britain must stay within the EU, she argued, in order to prevent the bloc from falling apart completely.
Her comments are timely. There have been murmurs of discontent from a number of Tory MPs over Britain's ongoing relationship with the EU. Cameron has so far rejected calls to leave, but Merkel is keen to remove any lingering doubts.
'I want to have a strong UK in the EU, let me make that absolutely clear,' she told the European Parliament before flying to London. 'I come from Germany. The UK was with us when we were liberated from National Socialism, we still have British soldiers in Germany. I will do everything to keep the UK in the EU as a good partner, that is why I am going to London.'

Of course, fiscal solidarity is the real issue here. Britain and Germany are two of the biggest contributors to the EU budget; should Britain decide to opt out, that could leave Germany up the proverbial creek. And the Anglo-German alliance is already under pressure due to disagreements over the EU budget for 2014 to 2020.

While the European Commission has demanded an 11% increase in spending in order to stimulate growth, Britain is calling for a freeze. And the numbers differ by quite some margin: if the EC gets its way, the EU's seven–year spending programme will top more than a trillion euros. Cameron doesn't want the figure to exceed £160bn.

Will this be enough to force Britain out of the EU? Unlikely. But with Cameron threateneing to use his power of veto over spending, the Chancellor is hoping that a little flattery will keep relations cosy.