PM, with these ambassadors you're really spoiling UK plc
David Cameron has appointed a 32-strong team of business ambassadors to promote the UK's excellence overseas. No pressure, then...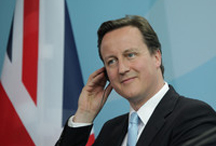 The Prime Minister made his announcement on his visit to China, where he's off trying to bolster our trade with the world's fastest-growing economy. He's made quite the start – vowing to double UK trade to the country to $100bn (£62bn) a year by 2015, and predicting that his ambassadors, some of whom are accompanying him on his two-day visit, would sign more than 40 deals worth billions. Which would be a start, at least. Business ambassadors, your country is now counting on you…
The good news is he's handed the shovels to an experienced bunch – with a wealth of business nous gleaned from broad sectors and geographical markets. Their job will also be to 'assist UK businesses to recognise and exploit business opportunities' overseas (so not just saying: 'Here, that French bloke needs a hat – allez!').
'Their knowledge, skill and dedication to British business will play a key role in opening markets, increasing trade and encouraging investment,' said the PM of his crack team. While it's a sensible move to employ the powers of those with first-hand experience, cynics will no doubt question whether a group like this will be able to accomplish anything - and why the Government can't make a convincing case for British strength itself. This may seem like an overseas outing in the Big Society bus.