PM bets the House on HBOS rescue
The Lloyds TSB/ HBOS deal will go ahead one way or the other, or Gordon Brown will really be in bother...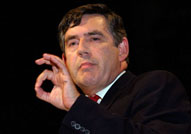 The deal was thrown into doubt yesterday after HBOS shares tanked again, wiping another £1bn off its market value and leaving the stock price well below the level implied by Lloyds TSB's offer. Amid rumours that big shareholders are about to get stroppy (and you couldn't blame them, given that they're effectively paying 30% over the odds for a failing bank), Prime Minister Gordon Brown has weighed in, telling Sky News that he was confident the deal would go ahead. He insists he's not going to intervene directly – but given the mess we'll all be in if the deal falls over, we imagine he'll be twisting a few arms to make sure that doesn't happen…
Under the original terms of the rescue offer, Lloyds was proposing to pay 0.83 of its own shares for every HBOS share, which would currently value the latter at about 188p. But as HBOS took a hammering yesterday – its share price fell by as much as 26% before closing at 122p, down 14% – speculation mounted that the two sides would have to go back to the drawing board and renegotiate the price. Judging by the price of HBOS credit default swaps, the market certainly thinks that will have to happen (although to be fair, recent events have shown that's no guarantee of anything).
Hence the Brown intervention, which is clearly aimed at soothing a few ragged nerve endings – much like his other announcement, that's he's increasing the savings protection level from £35,000 to £50,000. He insisted the deal was 'a matter for shareholders, not a matter for the Government'. But he's got a lot riding on it: if Lloyds walks away then HBOS will probably be history, and the banking system will be in chaos. He's backed the deal personally, and even changed the competition laws specifically to let it happen. So on all sorts of levels, it's hard to imagine him letting it fail.