PM fails to back Leveson law
Leveson wants some clever legislation to tighten up on media behaviour, but David Cameron has ruled out anything written in law. Doesn't look like there are any quick answers here...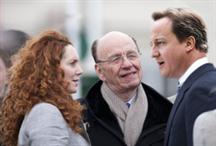 After listening to months of testimonies from politicians, musicians, film stars, writers and parents of murdered schoolchildren, Brian Leveson has come to his conclusions on what should be done to make British press behave itself. Rejecting the much-mooted regulatory body, he has called for the creation of a 'genuinely independent and effective system of self-regulation' underpinned by legislation that 'enshrines' the freedom of the press. But Prime Minister David Cameron made it clear in Parliament this afternoon: he does not want new laws.
In his 1,987-page report, Leveson condemned the 'outrageous' behaviour of some elements of the newspaper industry, saying that some papers had 'wreaked havoc with the lives of innocent people'. He also criticised the close relationship that many politicians have maintained with the press over the years. The report stopped short of recommending statutory powers to control the press in a similar way to other industries. But it did also seem to reject the idea that a simply beefier version of the press's current 'self-regulation' would suffice. Some form of legislation is needed to improve upon the status quo, apparently.
But Cameron's view, shared by most politicians and of course the media, is that freedom of the press is a crucial. He expressed concern in a Commons debate this afternoon that creating written legislation could open the door to restrictions on the freedom of the press further down the line. Most MPs who stood to speak agreed that that the freedom is an essential component of British democracy. After all, people have fought and died for the right to a free press: very few people want to throw that away. Cue a massive, lengthy public debate on which no conclusions are reached for at least a few more years.