PM launches Big Society Capital
David Cameron's Big Society is about to get its own £600m loan fund. But do communities thrive on business terms?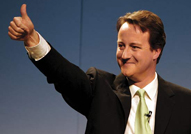 The PM today launches a £600m fund to boost grassroots charity and social projects, with £400m coming from bank accounts that have been left dormant for 15 years. Say what you like about the Government and its financial priorities, but it knows how to dig for change down the back of the sofa when it needs to.
The idea behind the fund is to give some much-needed muscle to the PM's Big Society campaign and prove that it's more than just an ill-defined slogan, intended to help everything from charities seeking to expand their activities to local groups taking control of things like their post office (if that doesn't sound too much like Richard Briers and Felicity Kendal wielding pitch forks in a stamp raid).
The blurb is that having traditionally helped business to grow, the City will now be providing capital for 'society to expand'. A further £200m will come from Britain's four largest high street banks – Barclays, Lloyds, HSBC and RBS ­– under the terms of the Merlin deal. The government would pay the fund some of the return on the fund's investments by giving it a cut of any savings the Treasury made thanks to the charitable work being financed. So if a prisoner support charity winds up reducing the reoffending rate of participants, then the government would pay the fund some of the money it had saved on putting them away.