Police want rise as jobless total falls
Amid the general economic gloom, there's at least one figure that looks positive - unemployment has fallen to its lowest level in more than thirty years. But that won't be much consolation to the police, who aren't happy with their latest pay deal.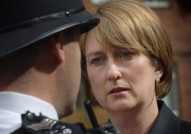 According to the latest unemployment figures from the Office for National Statistics, the number of people out of work dropped by 11,100 to 813,000 last month – the lowest level since 1975. It's an impressive stat, so it's no wonder the government is trumpeting it from the rooftops.
On the other hand, the overall picture looks much less rosy. The Bank of England may have cut interest rates last week to ease the tensions in the financial markets, but it's still worried about inflation – high commodity prices seem to be pushing prices up across the board.
Meanwhile depressing figures continue to emerge about the housing market. According to a report yesterday from the Council of Mortgage Lenders, our houses are more expensive than they have been for 15 years. Thanks to higher house prices and rising interest rates, we're having to apportion an ever greater share of our monthly wage packet to pay the mortgage. And to make it worse, our wages growth is also slowing.