Politicians can't agree if an EU vote would be good for business
The Tories want a referendum in 2017 but their opponents warn it could lead to catastrophe.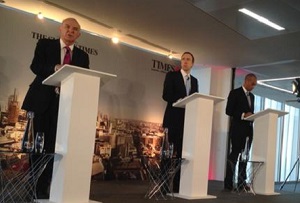 Exactly one month from election day, the three main parties took the opportunity this morning to set out their stall on what they would do for businesses. The Sunday Times debate between the Lib Dems' business secretary Vince Cable, Tory business and energy minister Matthew Hancock and Labour's shadow business secretary Chuka Umunna, was a rather more polite affair than the seven-way bunfight between the party leaders last week.
It's possible that reflects the three mens' approach to politics, but it's more likely because they seem to broadly agree on most of the issues at hand. Except, of course, on the issue of an EU referendum. While the Tories have spent the last couple of weeks laying into Labour's apparent lack of support in the business community, Ed Miliband has at least had his opposition to a referendum up his sleeve as a sign he understand what companies need.
But would a referendum be such a bad thing for business? Hancock, obviously, says not. While some have warned of a two-year death grip of uncertainty if the Tories get their 2017 poll, he said getting a referendum done would help settle the issue.