Polly Peck tycoon Asil Nadir found guilty of theft
The notorious Polly Peck founder and former chief executive, Asil Nadir, has been found guilty of stealing millions from the company back in the 1980s.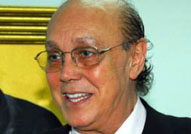 His company was once a constituent of the FTSE 100 index, valued in the billions, making him one of the richest men in the UK. He was at one point listed by the Sunday Times Rich List as having personal wealth of £200m. But today, a jury at the Old Bailey found Nadir guilty of siphoning off millions from Polly Peck International between 1987 and 1990, shortly before it went bust. He was found guilty of three counts of theft, innocent of one, but jurors are still deliberating over a further nine. Other allegations that have no verdict as yet, total £34m worth of theft. Oh, Icarus…
The theft is one of the largest corporate scandals of the 20th Century and along with a slew of other big business stories around that time, spurred on the reform of UK company law. After the Serious Fraud Office started an investigation into Nadir he fled the UK to Cyprus – with which the UK has no extradition agreement – to avoid standing trial for the thefts in 1993. He returned to the UK in 2010 to face the charges, which include stealing £1.3m to buy PPI shares, £1m to buy antiques, and £3.25m to filter off into 19 different offshore locations. These are the only counts of theft he has been found guilty of, but the prosecution lawyer told the jury at the start of the trial that Nadir also stole money to pay his own debts and run pet projects with his family during the period.
Nadir had a colourful rise to prominence, starting out in the rag trade and working for years to build up a business empire worth £2bn partly through a series of acquisitions, including Sansui Electronics and the Del Monte fruit business. But the allegations against him are that he took the £34m out of the business as it was on the verge of bankruptcy. He has not denied claims that the money was moved, but has always insisted that he put equal amounts of money back into the business at the Cyprus end of the group.