Polly Peck's Asil Nadir guilty on seven more charges
The former CEO of Polly Peck has been found guilty on a further seven charges in a court hearing at the Old Bailey.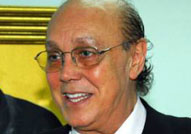 Asil Nadir was today found guilty on a further seven counts of theft from Polly Peck International, the business which went bust under his stewardship at the end of the 1980s.
The jury has now found him guilty of a total of ten counts of theft, representing around £29m of cash he allegedly took out of the business shortly before it went to the wall. After the thefts, he then fled to Cyprus after discovering that the Serious Fraud Office was launching an investigation into his business practices.
He has spent the last two decades in exile in Cyprus, a country with which the UK has no extradition treaty. As a result, British authorities have been unable to touch Nadir for many years. He returned to the UK to face charges voluntarily in 2010, and has consistently claimed that the £34m he is alleged to have stolen from the company was actually filtered back into a Cypriot branch of the company, and not added to his personal wealth.