Porsche's profits go into reverse after dodgy engineering
The world's most profitable carmaker reports a loss of Eu4.4bn, following its ill-fated tilt at VW.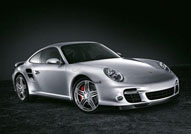 What a difference 12 months makes for Porsche. The German carmaker, long admired as the most profitable in the world, was sitting pretty this time last year after chalking up a massive €8.6bn annual profit. But this year's results were a very different story – a whopping €4.4bn loss, thanks to its disastrous takeover bid for Volkswagen. When it was forced to abandon the bid in the summer and sell its options to the Qataris, it was forced into massive write-downs, which is why it's ended the year so deep in the red. We suspect that – appropriately for a German firm – this may induce a degree of schadenfreude, not least among all those hedge fund managers it took to the cleaners last year...

Rather than getting bogged down in the tedious business of just making expensive sports cars, Porsche decided to become a financial speculator – and managed to secretly build up a majority stake in the much larger Volkswagen. When its stake became public, Volkswagen (only a small proportion of which is floated) briefly became the world's most valuable company, as all the hedge funds that had been shorting it were forcing to bail out at a loss. This also made Porsche an awful lot of money. In fact, virtually all of that huge €8bn profit came from financial engineering, and only about €400m from actual engineering. So it had basically become a hedge fund with a carmaker attached...

However, it all ended in tears for Porsche and its ambitious boss Wendelin Wiedeking; having accumulated a €10bn debt pile in his bid to take Volkswagen over, he was left high and dry when the debt markets froze up. Eventually, he was forced to give up and flog some options to the Qataris to raise some much-needed cash. The end result was that Volkswagen took over Porsche instead, with Wiedeking being turfed out unceremoniously in the process. (Incidentally, when we heard yesterday that the Porsche family had decided to flog a collection of their favourite watches, we were worried that the pennies must be getting really tight over at the carmaker's HQ – but as it turns out, they're auctioning them in a bid to raise money for a local cancer hospital. Phew).

So it's all a bit of a come-down for poor old Porsche. On the other hand, it insists that it remains the world's most profitable carmaker (it's even paying a tiny symbolic dividend still) once you strip out the Volkswagen fiasco. And now it's had its fingers burned trying to play the market, maybe it will learn its lesson and go back to doing what it does best: making cars.

In today's bulletin:
Walsh takes the controls as BA and Iberia agree merger
Waitrose thanks arch-rival M&S for free advertising
Porsche's profits go into reverse after dodgy engineering
Recovery could be 'worse than recession' for SMEs
Bad bosses driving away staff - the CMI responds