Pound of flesh: Discount stores go out of town
Bargain stores are benefiting from high street administrations - as a proposed sales tax threatens online stores.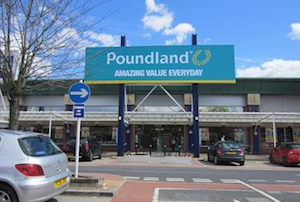 Over the past few years, the pound store has become an omnipresent force on our high streets. Now, according to a report by property services firm Knight Frank, they're taking over retail parks, too.

The discount retailers are taking advantage of the swathe of empty stores left in the wake of administrations: 'the balance of power is now firmly in the hands of the discounters,' says the report.

The study finds that rents in retail parks are falling as discount retailers, such as Poundland and Home Bargains, are increasingly aggressively negotiating with cash-strapped landlords - meaning they pay much less than their more established retail park neighbours.

For example, average rents for B&M, the Liverpool born group of bargain stores, is £11.72 per sq ft, while recession-weathered Mothercare, devoid of bargaining power, is still paying an average of £23.26 per sq ft. No wonder the purveyor of babygros is struggling.

'The property industry may have some reservations about some of these brands, but consumers have clearly embraced the value end of the market,' said Andrew McGregor, a partner at Knight Frank.

'These budget operators have seen an opportunity to move into space on aggressive terms and landlords have not had an awful lot of choice.'

Poundland now has some 170 stores in the UK – 120 of which are on the outskirts of town. But in terms of expansion, B&M is leading the pack with 410,000 sq ft of extra retail space last year, while Home Bargains took 230,000 sq ft in 2012.

But despite the pace of growth in bargain chains, vacancy rates at retail parks have increased at their fastest pace since 2008, clocking a 9.9% increase in the year to the end of 2012.

'The vacancy rate has ticked up to 10 per cent across all retail parks as units closed because of corporate failures, but it would have been a lot worse if not for the discount retailers. In time, people will realise the discount retailers are here to stay,' said McGregor.

Lucky us, more bumper packs of jammy Wagon Wheels and £1 plaster cast garden gnomes to fill the car boot with.

The more obvious cause of the demise of the high street - internet retailers - also hit headlines today as they fight off calls for an online sales tax. Troubled bricks-and-mortar stores have called for their mortal enemies to pay a new tax in order to 'level the playing field', but most online retailers are having none of it.
Online giants Ocado, Boden and Shop Direct are among the six retailers who have written a letter to George Osborne, pointing out the idiocy of the proposed tax.

'We support our high street counterparts in their call for lower business rates, but hitting online businesses by replacing lost revenue with this type of tax will hamper growth, slow the economy, impact jobs and reduce investment while not achieving a significant uplift for the Treasury,' said the note.

It does seem spiteful: fighting for the reduction of business rates for high street stores is fair enough, but slamming online businesses with a tax simply to throw a spanner in the ecommerce works just looks malevolent.

In other news, bricks-and-mortar retailers SuperGroup and Optical Express have signed on potentially life saving deals. SuperGroup has signed a ten-year distribution agreement with Asian retailer FJ Benjamin, which will aid its expansion plans.

Meanwhile, Optical Express has been saved at the eleventh hour by its founder. The company, which owed RBS £30m, was under threat of seizure by the bank but founder David Moulsdale swooped in and bought the debt, saving 1,600 jobs.

Retail, eh? Never a dull moment...