Pound hammered again as fuel drags inflation to five-year low
A big drop in CPI inflation and various other bits of economic gloom sparks another sterling sell-off.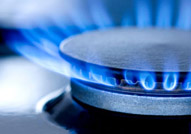 The Consumer Price Index, the official measure of inflation, dropped to 1.1% in September – its lowest level since September 2004. OK, so we're not into the realms of deflation yet (in fact we're not even outside the Bank of England's allowed range). And the main deflationary pressure last month – falling energy bills – is likely to be short-lived, since prices are now on the rise again. But with economists warning of more pain to come for the UK economy, it's no wonder that the pound was down again this morning – hitting $1.571 against the dollar and €1.063 against the euro...

The drop in CPI (which was much steeper than expected - the consensus was 1.3%) was largely due to a big fall in utility bills, which were down 7.3%, while transport and food costs also slipped. That all added up to a five-year low for the index, although we're not yet at the 1% level where Bank Governor Mervyn King has to write a letter of explanation to the Chancellor. On the other hand, core inflation (which strips out food, alcohol and energy) remained fairly stable, inching down from 1.8% to 1.7%.

However, the Retail Price Index may actually be more of an issue for the general populace - this alternative inflation measure, which factors in mortgage costs, fell to -1.4% in September. And since this figure is used to calculate benefit rises next year, this ought to mean that the Government won't be increasing payments in April. Of course, whether they'll go actually through with that in an election year is another matter entirely (we'll believe it when we see it).

As for the wider economy, the British Chambers of Commerce suggested today that – although confidence was slowly improving – Britain probably didn't emerge from recession in the third quarter after all (a conclusion also reached by the National Institute of Economic and Social Research last week). So things are still pretty gloomy. And those cheerful souls at PwC reminded us today why they could remain so for a while yet, arguing that Britain will need to raise taxes or cut public spending by an extra £26bn a year (above and beyond the current plans) in order to have the economy on a secure footing by 2013/14.

In other words, we're looking at a sluggish recovery, which means interest rates are likely to remain pretty low for the foreseeable future. So you can understand why traders were so keen to dump the pound this morning.

In today's bulletin:
Pound hammered again as fuel drags inflation to five-year low
Ryanair comes out fighting after BBC 'hatchet job'
Editor's blog: ITV, the search from hell
Women's pension pots looking lighter
Businesses failing to protect us from ID fraud