Pound hammered again as UK trade deficit hits 17-month low
Wasn't a weak pound supposed to boost UK exports? Not according to the latest Government figures...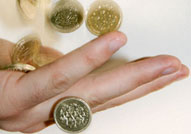 Oh dear. Much to everyone's surprise, Britain's trade deficit – the difference between what we spend on imports, and what we make from exports – widened to almost £8bn in January. That's a jump of almost £1bn from the previous month, and takes the deficit to its highest level since before the Lehman collapse in August 2008. The one consolation of the beating taken by sterling in recent months was that it would probably boost exports (because they'd be so much cheaper as a result). No such luck, however – and although the weather may be partly to blame, that's not good news for the UK economy. The pound is back below $1.50 again this morning…

Economists had been expecting January's trade deficit to be about the same or possibly slightly lower than the £7.01bn figure from December. But a big slump in exports put paid to that. Total exports dropped to £19.5bn, a 6.9% fall – the biggest month-on-month drop in three-and-a-half years (non-EU exports took a particular hammering, plunging 12.5%). In fact, the deficit would have been even larger had it not been for a small decline in imports, which were down 1.6% to £27.4bn.

So what's going on? Well, the ONS basically admitted that it had no idea. Just about the best reason anyone can come up with is the weather (that hoariest of excuses); some economists reckon the dismal conditions in January may have disrupted trade, presumably because it affects supply chains and makes goods harder to transport. But nobody seems to have expected the figures to be anything like this bad, particularly given the recent woes of the pound. Besides: if it was just a weather issue, why were exports hit so much harder than imports?

Presumably we won't know for sure until the February figure is released next month. But in the meantime, today's figure doesn't exactly bode well for the prospects of the UK enjoying an export-led recovery (thanks to a cheaper pound). And since there are no signs of domestic demand picking up any time soon, it's not immediately obvious where our economic growth is going to come from in 2010. Hence the pound slumping again today.

Next boss Simon Wolfson reckons the Government is the problem. Writing in today's Times, he bemoans the 'huge cost in having a hyperactive, interventionist and regulatory government' and calls for a 'smaller and less intrusive' state. He also insists the next Government 'must be unashamedly pro-growth', slashing regulation and business costs and investing in infrastructure. Wolfson's a big Tory supporter, so he's hardly an objective witness. But since relying on cheaper exports doesn't seem to be working, we need to try something...

In today's bulletin:
Pound hammered again as UK trade deficit hits 17-month low
High street sales heat up in February
Kroll and private equity - a match made in heaven?
Women more resilient than men?
Five steps to a stress-free working life