Pound slides as Bank of England goes all gloomy over the global economy
The MPC split 7-2 again over interest rates, but a rise looks further away than ever.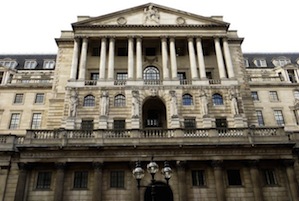 The Bank of England is not looking on the bright side at the moment. The minutes of its September Monetary Policy Committee meeting were downright pessimistic about the global economy, making an interest rate rise look further away than ever.

The MPC split 7-2 for the third month in a row, with Martin Weale and Ian McCafferty again voting to raise interest rates 0.25% from their 67-month record low of 0.5%. But, for the majority, economic 'headwinds' from Asia and the Eurozone, where 'the loss of momentum was especially notable in Germany', were blowing cold. And those, in their opinion, could throw the UK's economic recovery off course if rates were raised prematurely.

They also pointed to continued weak wage growth and a cooling housing market as evidence for a lack of 'inflationary pressure'. Inflation is currently at a five-year-low of 1.2%, well below the Bank's 2% target rate.

The general MPC malaise, which adds to Bank chief economist Andy Haldane's 'gloomy' economic prognosis last week, sent the pound down 0.38% to $1.6052 around midday, after rising as high as $1.7158 back in July.

That would be good news for exporters, were it not for the miserable outlook that prompted the sell-off. Meanwhile, it looks more unlikely than ever that interest rates will rise before the general election in May next year.