Pound store looking up thanks to Cheryl Cole's bikini
A British firm hopes a skimpy bikini and what's left of Woolies will help it flourish in the downturn.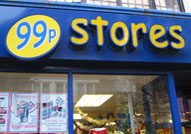 We're not hearing a lot of good news from the high street these days, so here's something to celebrate: one British retailer is planning to open 100 new stores this year, with a little help from a new cut-price beachwear range modelled on the wardrobe of Girls Aloud and X-Factor superstar Cheryl Cole. And the recent demise of Woolies has also done it a big favour...
Budget retailer 99p Stores hopes to open two new stores every week in 2009, as punters look for recession-beating bargains. The centrepiece of its new 'Cheryl Cole for under a pound' range is a 99p bikini, which apparently comes in eight different colours and patterns. And if your devotion to the petite popstrel extends to her accessories, you can also pick up that daft sun hat and flip-flops she wore on the X-Factor for the same price. In fact, you could get the whole lot, throw in a beach towel and some sun tan lotion, and still end up with change from a fiver. What's not to like about that?
If you're wondering how they can charge so little for this stuff, the answer, according to co-founder Hussein Lalani, lies in its ultra-low margins. 'Because we want to give the customer value for money, we're working on less profit for ourselves,' he tells the Telegraph today. It also buys most of its stock from fellow retailers that have gone bust, and is snapping up lots of the high street sites recently vacated by the most famous recent casualty – Woolworths. How's that for high-street recycling?