Pound takes a pounding as sterling sinks to new low
Investors continue to dump the pound, which has plunged to another record low against the euro...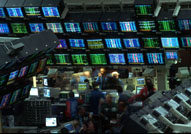 As the news gets worse about the UK economy, sterling continues to take a hammering: the pound sank to a record low against the euro overnight, while this morning its relative value against a basket of other currencies sank to 79.7, the lowest figure since the Bank of England's records began in 1990. And it's not really any surprise: with interest rates plummeting, the economy shrinking and public borrowing soaring, it would take a brave investor to buy the pound at the moment.
This morning the euro crept up another third of a penny to 87.43p, the highest it's ever been. If it carries on climbing at this rate, it won't be long before the euro and the pound reach parity – traders are already expecting it to rise to the mid-90s before too long. And it's not just the euro; sterling has also been falling against other currencies, a process that has been accelerated by the recent sharp interest rate cuts. With rates apparently sliding inexorably towards 0%, as the Government desperately tries to boost spending, returns are shrinking – giving investors even less reason to park their money in sterling (still, at least it's helping our manufacturing expor-... oh).
To make matters worse, all the signs suggest that the recession could well be worse in the UK than in any other developed country. The National Institute of Economic and Social Research (a body not usually known for chasing headlines) added to the general gloom today by reporting that the UK economy contracted by 1% in September and November. That's twice the official rate reported for the third quarter – and it thinks the picture will be even worse for the last three months of the year. Not only will that place us officially in a recession, but the size of the contraction will make it a recession of early-1990s proportions.