Pound tumbles as recession breaks all records
The UKs GDP shrank by 0.4% in the third quarter, confounding expectations of economic recovery.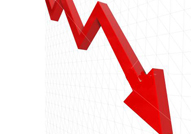 The surprise bad news means that the UK economy has now shrunk for six successive quarters, making the current recession the longest since records began in 1955. We don't think that's the kind of record that would have had Roy Castle lacing up his tap shoes, even if he were still alive.
The pound, which had been making some progress upwards against the dollar and the euro this week, promptly crashed back again following the announcement from the ONS, losing 1.5% against the Euro, rather less against the dollar.