How Poundland made its millions
The cost-of-living friendly bargain store is rumoured to be cooking up an IPO - it's even signed Jane Asher...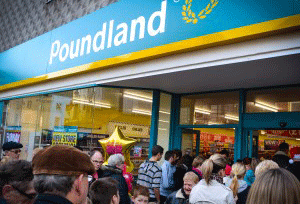 Formative years
Bargain store Poundland first hung its trademark turquoise-and-yellow shingle outside a shop in Burton-upon-Trent's Octagon Centre in December 1990. Founders Dave Dodd and Stephen Smith were inspired by the success of one-price-fits-all US chains like Dollar General (which turned over $16bn in 2012) and reckon to have introduced the concept of 'price point retailing' to the UK.
Poundland certainly struck a chord with cash-strapped punters in the nation's post-industrial rustbelt. By eking out meagre budgets with cut-price deals on everything from baked beans and instant coffee to sticky tape and floor cleaner, Poundland now serves 4.5 million customers a week.
Recent history
In 2002, Poundland became an early beneficiary of the burgeoning private equity bonanza when Advent International coughed up £47.5m for 78% of the firm. But it was the aftermath of the 2008 crash that really put Poundland on the map.